About
David Molesky (b.1977) is an artist whose oil paintings explore our relationship to the sublime forces of nature. He is interested in the psychology behind the creative process and experiences of awe, as well as the magic of paint—how a goopy amorphous substance can be transformed into illusionistic images capable of arousing empathy and contemplation.
His paintings have been exhibited throughout the United States and Europe and form part of the permanent collections of a number of public museums including the Long Beach Museum of Art and the Iloilo Museum of Contemporary Art, Philippines. He is the recipient of artist residencies awarded by the Morris Graves Foundation, California; Fine Art Base, California; the Fundacja Nakielska, Poland; and the Akureyri Art Museum, Iceland. David's work has been featured in publications that include The Washington Post, New American Painting, American Arts Quarterly, and Hi-Fructose.
David grew up on the East Coast and began oil painting in his early teens. By the time he set off to attend UC Berkeley, he'd already made a few hundred paintings and had a sold out solo-exhibition. At Berkeley, David pursued both his passions for art and science while attempting to view his painting process through the lens of neurobiology. After receiving his BA, David made a circuit of apprenticeships with artists whose work drew from the rich history of the figurative tradition. In building his community of peers and mentors, David moved to San Francisco, Seattle, Monterey, Los Angeles, and Europe, before returning to San Francisco where he set up a studio in an antique prop rental warehouse. In 2013 David moved to NYC, eventually settling into a live/work loft in East Williamsburg. The community of artists he'd come to meet in the next seven years deeply inspired and influenced his evolution as a painter and became the subject for a series of articles that he contributed to Juxtapoz magazine.
At the end of 2020, David traveled to Iceland at the invitation of a prominent collector. What was supposed to be a relatively short visit turned into a six month adventure as he was awarded several artist residency programs. During this time of dedicated focus, David further developed his "unfinished" series. These paintings on linen bring a contemporary twist to the tradition of figurative painting by remixing elements from Post-Impressionist drawing with Baroque oil techniques and composition. Through the exposure of the various layers of his process — even down to raw linen — the paintings engage the viewer to fill in the gaps. The visual result of the figure and background appearing to share materiality reinforces David's aim to depict states of elevated oneness within their environments.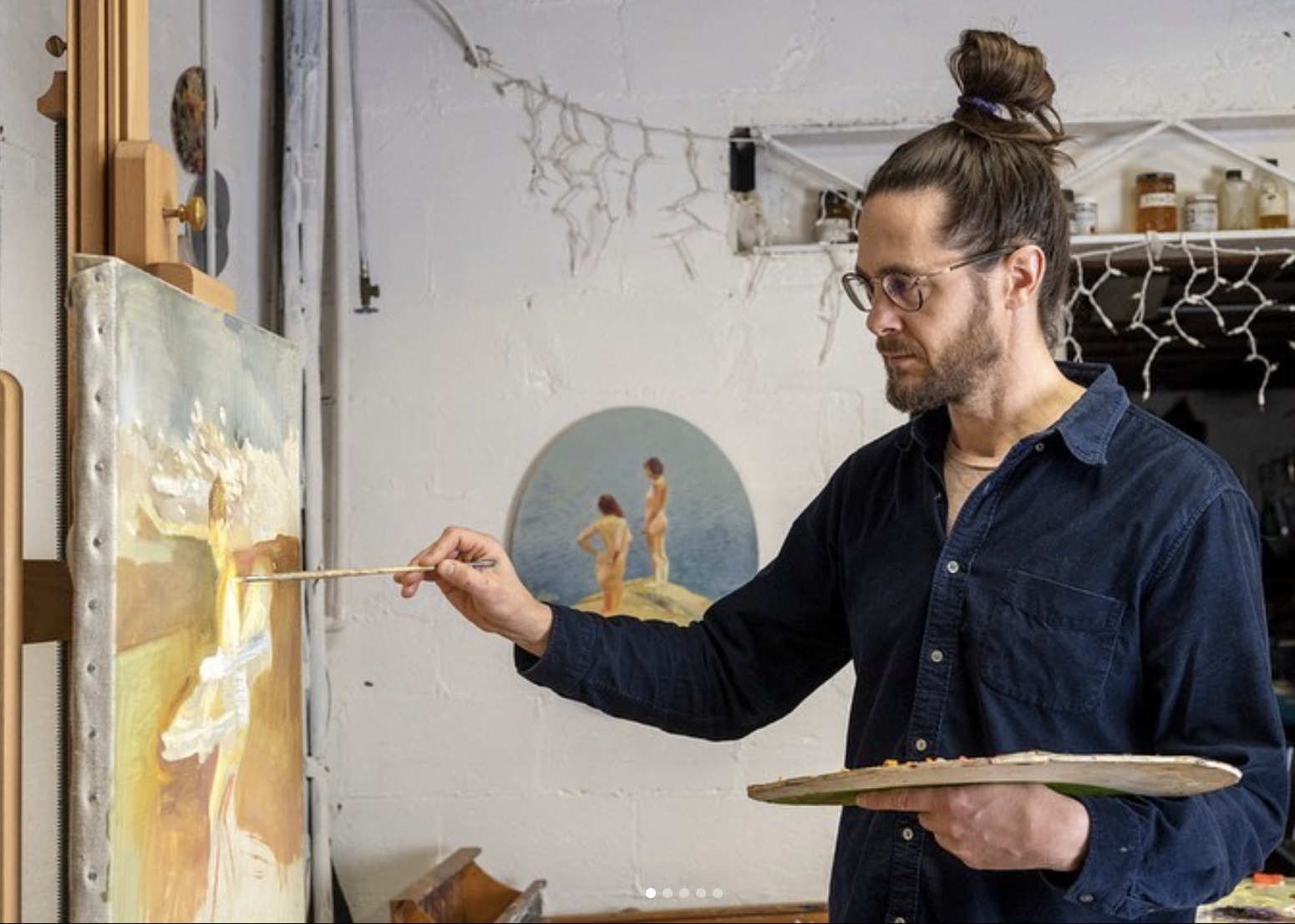 David Molesky is an internationally recognized oil painter known for his landscapes and figurative works.