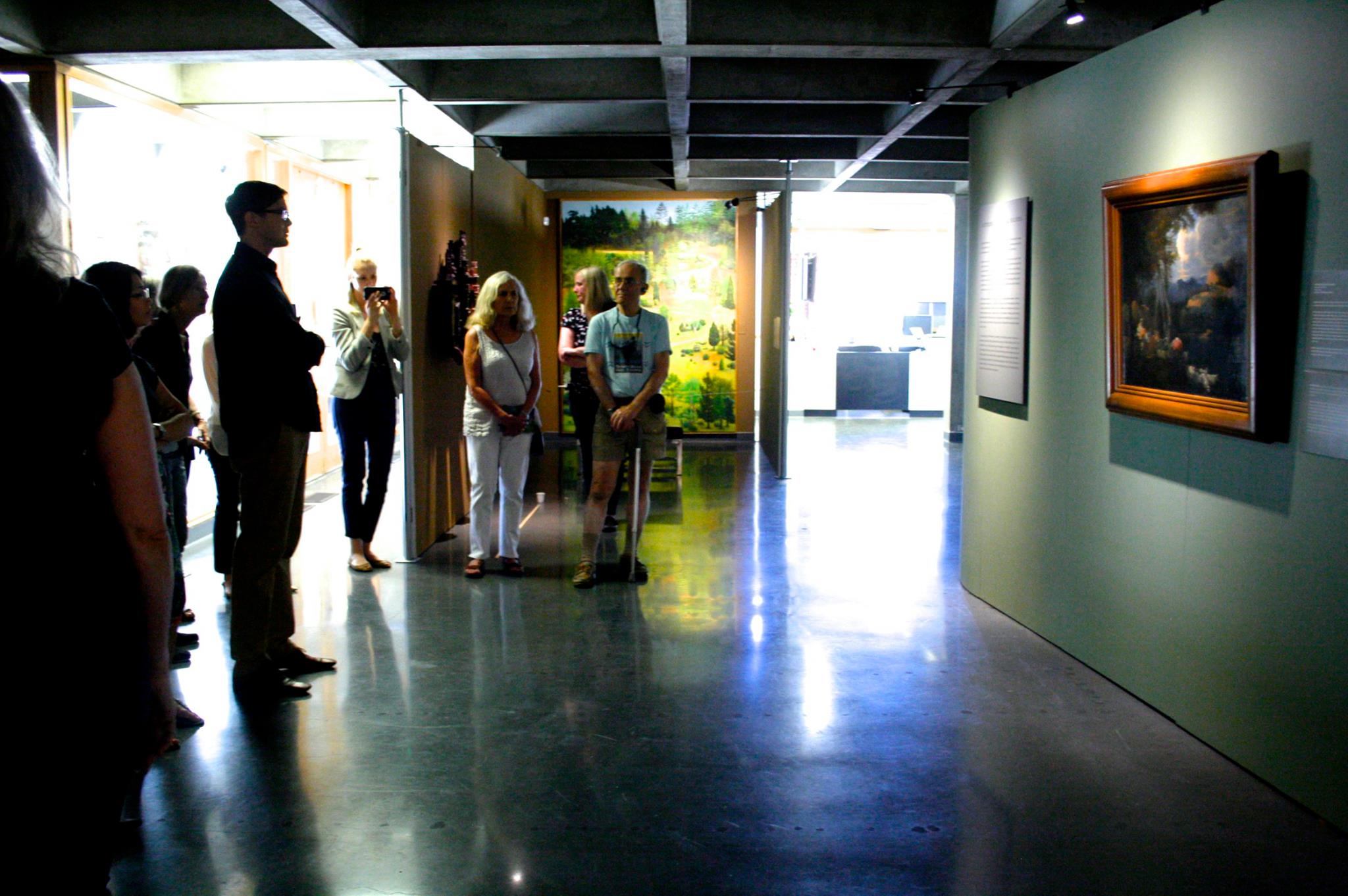 Molesky speaking about the supposed Poussin painting at the exhibition at NUMU
The great paradox of being alive is knowing that, at some point, despite good hair days and passionate kisses, it ultimately ends. The matter of impermanence has haunted the human psyche since the dawn of consciousness, tormenting countless artists to the brink of creative genius. June 2 through October 2, 2016, New Museum Los Gatos presents Et Arcadia Ego, an exhibition exploring this conundrum and inspired by the eponymous seventeenth-century painting by Nicolas Poussin. The title, which translates to, "Even in Arcadia, there am I," refers to the fleeting nature of the ideal, the specter of death in the utopian corners of our imagination.
"All the work in the show contains the three main concepts distilled out of Poussin's composition," says guest curator and Jux contributor David Molesky, "the idealized landscape, the presence of outsider and liminal figures, and the contemplation of mortality." The show's selection of 18 paintings explores what it means to be human in the temporal world while standing on the precipice of the next, and showcases both living and historical painters from Europe and the American coasts, including many Juxtapoz alums such as David Ligare, Odd Nerdrum, Julie Heffernan, Agostino Arrivabene, Maria Kreyn and Sandow Birk, as well as Jason Yarmosky, Robin F. Williams, Brad Kunkle and others. A never-before-exhibited Poussin, discovered by Odd Nerdrum, crowns the exhibition.
The concept of Arcadia arose from ancient Greek poetry that described the beautiful lives of shepherds who roamed the countryside. For more than two thousand years, the shepherd has persisted as the icon of the Arcadian myth, a liminal figure existing on the outskirts of civilization and wild nature. Their idyllic lifestyle is the foundation for the archetype of utopia. It is therefore fitting that the show should take place in picturesque Los Gatos, California, described by Molesky as, "an affluent hippie enclave in the mountains above Silicon Valley." This veritable mainland American Arcadia is also famous for being the home of John Steinbeck, modern torchbearer of the pastoral literary tradition. The exhibition promises a contemplative tour of the beauties and mysteries of human life. – Scout Opatut